Once you've customized your Infinity Store's style you can export the setup as a .json file. This allows you to keep your current settings as an external file whilst you make changes, then if you don't like the changes you've made, simply import this file to restore the previous settings.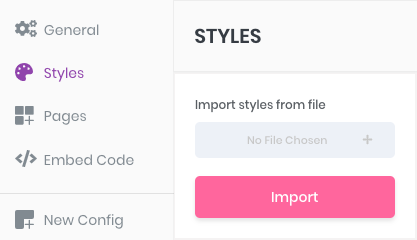 Alternatively, if you're not so handy with design, you can ask another Platinum member to create a style for you then send you the .json file - this is a great way to get outside help without sharing your login details.
Pre-made themes can be purchased from airbitthemes.com. Once purchased, you'll receive the file immediately. All you have to do is upload it and voilà - instant theme!
The Import button is found at the top of your Styles settings, whilst the Export button is found at the bottom.

Click here for a full guide to customizing your Infinity Store

The Infinity Store is available to Platinum members only. If you have a free account, you can upgrade here.