You can now use Tags and Moods to describe your beats in more detail.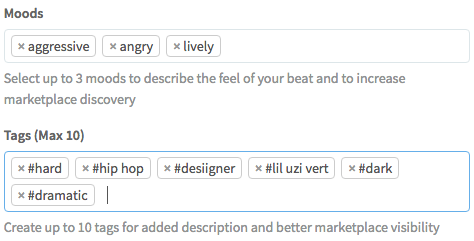 Tags can be searched on the Marketplace, meaning there are more ways for your beats to be found. Customers can browse #drake type beats, and if you've not tagged your drake beats accordingly, you'll be missing out on potential sales
Moods are used by the customer when they're not sure exactly what they're looking for, but know how they want their song to sound - so they may just browse 'Relaxing' beats. Again, if you've not set your moods, you could be missing out on sales
These can be entered after you've uploaded the beat, or later on by clicking the beat name to edit it's details
How Do I Add Tags & Moods To My Beats?