You can connect your Facebook Pixel to your Airbit account to track sales conversions from Facebook Ads. Whenever you make a sale, we'll use your Facebook Pixel to send a message to your Facebook account to notify of a sales conversion, so you can truly test your ad performance
To learn more about Facebook Pixel's and how to create one, visit this article on Facebook
Once you have created a Facebook Pixel, you'll need to extract the Pixel ID from the code that Facebook provide you and enter it into the field here (Dashboard > Music Stores > Analytics/Tracking).
The image below shows an example of a Pixel tracking code, with it's Pixel ID highlighted in blue. The ID appears twice in the code but you only need to enter it once into the corresponding field. Do not enter the entire Pixel tracking code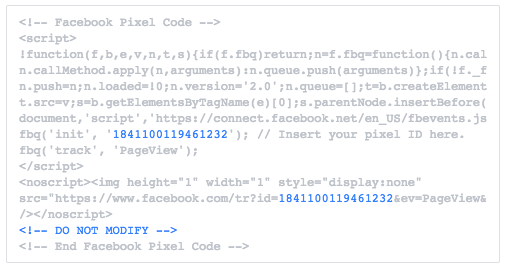 Verify Your Domain
If you're using our Infinity Store, you will need to verify your domain for Pixel tracking to work correctly.
If you're using a custom domain, you can verify this through the method below, or by using the DNS TXT record option and following the steps Facebook provides. (This can be seen by following steps 1 - 5 below, then select the Update the DNS TXT record with your domain registrar option from the drop-down menu instead of step 6).
If you're using your Infinity Store URL - yourusername.infinity.airbit.com - then follow the steps below to verify the domain.
Open Facebook Business Manager
Open the menu and click Business Settings
Click Brand Safety Domains from the panel on the left
Click Add and enter your domain in the pop-up. This will be your Infinity Store URL - yourusername.infinity.airbit.com - or a custom domain if you have one

The Add a meta-tag to your HTML source code option should be selected by default, but if not, select this from the drop-down menu.



Copy the meta-tag you see on your Business Manager screen

Paste the meta-tag into the Meta Tag box, in your Facebook Pixel settings section of your Airbit account shown below and click Save.



Head back to your Business Manager screen in Facebook and click Verify Domain
Facebook Pixel integration is available to Platinum members only. If you have a free account, you can upgrade here.