Email is a great way to stay in contact with your customers and market your services directly to them - this could be notification of new releases, discounts/offers, or simply sharing some advice on how to make higher quality music. Collecting email addresses after a sale or free download in your Airbit store is a solid way to build your customer base, and now with the new mailing list pop up in your Infinity Store, you can capture email addresses from all visitors, whether completing a transaction or not.

This works by automatically displaying a pop up message to your visitors, displaying your custom message (e.g. "Subscribe for free beats") and giving them the chance to join your mailing list immediately.

To set up this feature:
You'll first need to connect a mailing list to your Airbit account. We support GetResponse, Mailchimp and Aweber integrations. You can find a full guide to adding these here.

Once you have a mailing list connected, head to your Infinity Store and click the settings cog in the top right.

In the General section, scroll down to Mailing List Integration and click the toggle to turn on Request visitor email

You can then customize the headline & message that will be displayed to your customers in the pop up.

Save the changes and you're all set.
The pop up will appear to your Infinity store visitors 45 seconds after they arrive, and if the visitor dismisses the message it won't appear to the same user again for 30 days (to avoid annoying potential customers). Anyone who submits their email address will automatically be added to the mailing list(s) you have connected in your Airbit account.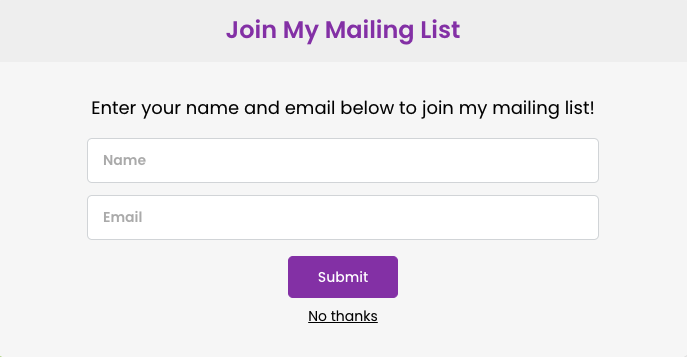 The Infinity Store is available to Platinum members only. If you have a free account, you can upgrade here.